Panera Bread CEO Niren Chaudhary Visits Tampa Bay, Owners Kevin and Kerry Ricci are Honored as First Million Dollar Donors of the Children's Cancer Center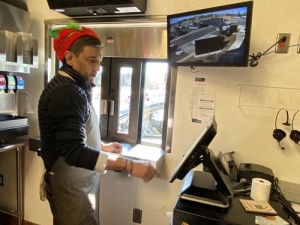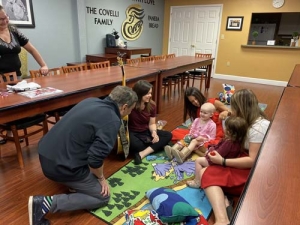 Twelve Panera Bread executives accompanied CEO Niren Chaudhary on a Panera Holiday Tour this December, where they visited several different markets around the US. When they arrived in Tampa, they visited with general managers, associates, and customers to spread some holiday cheer. Niren, wearing an elf hat and all, made his way through different positions of each bakerycafé, taking turns ringing up customers and handing out orders at the drive-thru window. He ended his time at each location by awarding top associates with pins to recognize their dedication and hard work. To read about some of Niren's upcoming initiatives for Panera Bread, click here.
Niren and his team were also eager to visit the Children's Cancer Center during their stay in Tampa Bay. Patty O'Leary, executive director of the CCC, gave the executives a tour where they got to meet Trinity, a 4 year old in treatment for high risk Neuroblastoma. Trinity was upstairs in the 'Panera room' having a music therapy session. Niren, a musician himself, grabbed a nearby guitar and began to sing right along. At the end of the tour, Patty surprised the group by presenting Panera Bread owners Kevin and Kerry Ricci as the Children's Cancer Center's very first million dollar donors. Kevin and Kerry have been active supporters of the Children's Cancer Center for over ten years. In 2012, the Knead for Knowledge Scholarship Program was created to ease the financial burden of continuing education for the families of the CCC. Each year, $65,000 in college scholarships are awarded to around 20 kids. Click here if you would like to learn more or donate to the Knead for Knowledge Scholarship Program.