The Panera Bread Knead for Knowledge Scholarship Program benefiting the Children's Cancer Center Celebrates a 10-year Milestone
Spring, 2023, marked the 10th anniversary of The Panera Bread Knead for Knowledge Scholarship Program. The program provides college scholarships and funds a bi-monthly learning program for local children who have battled pediatric cancer, or a chronic blood disorder. Kevin & Kerry Ricci, owners of Covelli Family LP, franchisee of Panera LLC, celebrated this milestone by honoring the Children's Cancer Center (CCC) in Triple Crown fashion.
"The Panera Bread Knead for Knowledge Scholarship Program has been a true labor of love. We made a commitment ten years ago to pay it forward and invest in the futures of these strong and resilient children. The program has come full circle as we now have former scholarship recipients thriving post-graduation and starting new chapters in their lives."
–Kevin & Kerry Ricci
To kick off the celebration, the 3rd Annual Tennis on the Green for the Love of Children's Cancer Center fundraiser took place at Palma Ceia Golf & Country Club in early May. This year's event, "Battle of the Division 1 Doubles: Derby Style" featured a fierce match-up between four former collegiate tennis players: Jason Hood, Florida State University; Cameron Ahari, University of North Carolina; Phil Stolt, University of Illinois and Andrew Laflin, University of Notre Dame.
Prior to the match, 250+ guests enjoyed live entertainment, appetizers, signature drinks, a silent auction, and a 50/50 derby horse chance drawing. While spectators cheered on their alma maters, the largest round of applause took place for CCC ambassadors 9-year-old Monroe, who proudly sang the National Anthem, and 6-year-old Jailene who joined her for a racquet spin to start the match.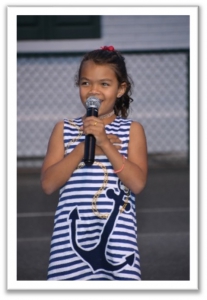 Following the game-winning point, guests moved from the tennis court to the 18th hole of the golf course for an afterparty complete with dinner, a live band, LED lounges, cocktails, and dancing. In the past three years, 100% of the $531,785.18 in net proceeds raised from the event have directly benefited the Children's Cancer Center through the Panera Bread Knead for Knowledge Scholarship Program.
The 10-Year celebration continued June 15th, 2023, at the Panera Bread Knead for Knowledge Scholarship Awards Dinner where twenty recipients and their families gathered in Palma Ceia Golf & Country Club's grand ballroom to receive college scholarships valued at $65,000.00. Before the awards dinner, the Ricci's along with CCC ambassador Gage, presented a 15-passenger Sprinter van to CCC Executive Director, Patty O'Leary. The van, donated through the Panera Bread Knead for Knowledge Scholarship Program, features a picture of Gage, and will provide transportation to off-site activities and field trips.
Shortly after, guests arrived and read scholarship application essay boards displayed next to each recipient's picture. Emcee, WFLA Morning Meteorologist, Leigh Spann, welcomed guests as they enjoyed a "Paint Your Own Path" themed program and dinner. Former scholarship recipient, Andrew Giddens, served as the keynote speaker and shared how he played collegiate baseball and graduated from Ave Marie University with a bachelor's degree in exercise science, went on to achieve his MBA from the Florida Institute of Technology, and now owns his own business.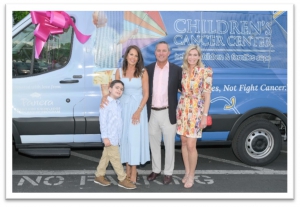 Claire Schreiber, a recent graduate from the University of Florida with a major in Applied Physiology and Kinesiology was the winner of the top $10,000.00 Albert & Josephine Covelli Scholarship. Schreiber will be attending graduate school in the fall and shared her
"I want to be a pediatric oncologist who can be skilled in clinic and connect with my patients by providing personal experiences, attentiveness, or even that Band-Aid or hug, as I did when I was a child."
-Claire Schreiber
For the final surprise, The Ricci's revealed that they will be funding a renovation of the Family Connection Room at the CCC through the scholarship program. The Family Connection Lounge is a universal room utilized weekly during SAIL, Sib Shops, Oncology Family Connection Group, MOMS Group, KITE Camp, individualized tutoring, creative therapy, sharing circles and art therapy. This enhancement will provide an atmosphere that exudes openness and healing. The décor and design elements will be a thoughtful collaboration between a child life specialist, licensed mental health counselor, occupational therapist, and interior designer.
In the past ten years, the Panera Bread Knead for Knowledge Scholarship Program has awarded 215 scholarships valued at $616,500.00 to 105 recipients. Additionally, the program funds SAIL (Students Achieving through Interactive Learning) which helps bridge educational and emotional gaps caused by the child's diagnosis or treatment. To date, the program has served 496 families and continues to grow as a valuable resource at the CCC. Proceeds from the Tennis on the Green fundraising event, along with customer donations made in 29 Panera Bread bakery cafes throughout the year fund the Panera Bread Knead for Knowledge Program. For more information about the charity, visit www.childrenscancercenter.org.